)">
Wimbledon 'WHAT IT TAKES'
What it takes to serve-up the perfect Wimbledon Championship.
For 27 years, IBM has been the official supplier of information technology to the All England Club - helping Wimbledon in their pursuit of greatness.
Up to the minute. Up to the challenge.
As a Wimbledon partner, IBM provides an award winning omni-channel (digital, social, TV and physical) experience. Using their cognitive solutions, IBM help present Wimbledon's content in an accessible relevant way to fans, the world's press and broadcasters. Every single moment of the competition delivered to a global audience of billions.
All the facts. All the stats. All the time. And on time. Accurate information every second. Presented beautifully. Through data. Through digital. Through design. Delivered efficiently and securely on the IBM Cloud in real time. No small task.
But how could IBM market this tremendous undertaking to their advantage during Wimbledon fortnight?
Behind the scenes. Ahead of the game.
GPJ's solution? 'IBM: Discover what it takes' - an engaging video experience that uses real life Wimbledon stories to explain how IBM's team and solutions are used to enhance the fan experience every minute of every day at the Championships.
A uniquely designed event stand featuring graphics detailing key IBM stats and - at its core - an interactive, live screen housed in an unmissable giant Wimbledon tennis ball.
Reaching inside Wimbledon. Thinking outside the box.
GPJ's Digital team used 360 video to bring IBM and Wimbledon's story to life. Rather than just filming the bunker, we researched the IBM solutions that help enhance the fan experience and found specific case studies that brought these stories to life.
'Capturing the moments that matter helped create a more vivid experience for fans than ever before.' Mick Desmond, Commercial and Media Director, AELTC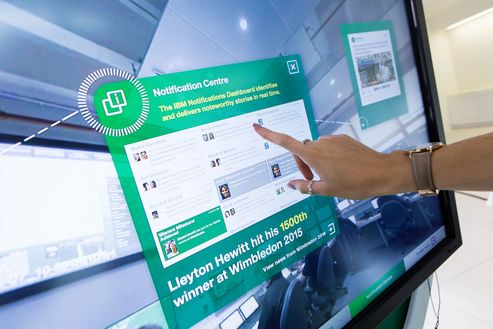 We created animations and overlaid these onto the video allowing fans to click on the topics that interested them - enabling them to interact with IBM at Wimbledon in a way that previously wasn't possible.
Our experience allowed every fan who visited the grounds to discover what happens in the IBM bunker and how cognitive solutions ensure Wimbledon remains the best tennis tournament in the world.
Enlightening the tennis fans of today. And tomorrow.
Every day during the tournament some 200 tennis fans visited 'IBM: Discover what it takes'. And while they were learning a lot about Wimbledon - at GPJ - we learned a great deal about ourselves.
For the first time, this project saw GPJ move from purely building the IBM stand at Wimbledon, to creating the digital experience that sits within it - an experience that can live beyond Wimbledon in time and location and extend into the live space.
A two-week experience. A long-term solution.
'IBM: Discover what it takes' has created considerable interest across the IBM network.
To date the experience has been employed at six different events - all with minimal costs. And when it's not 'on-the-road', the experience continues to tell the IBM Wimbledon story to guests visiting IBM UKI headquarters.
Solving your challenge starts with a conversation.
Let's talk