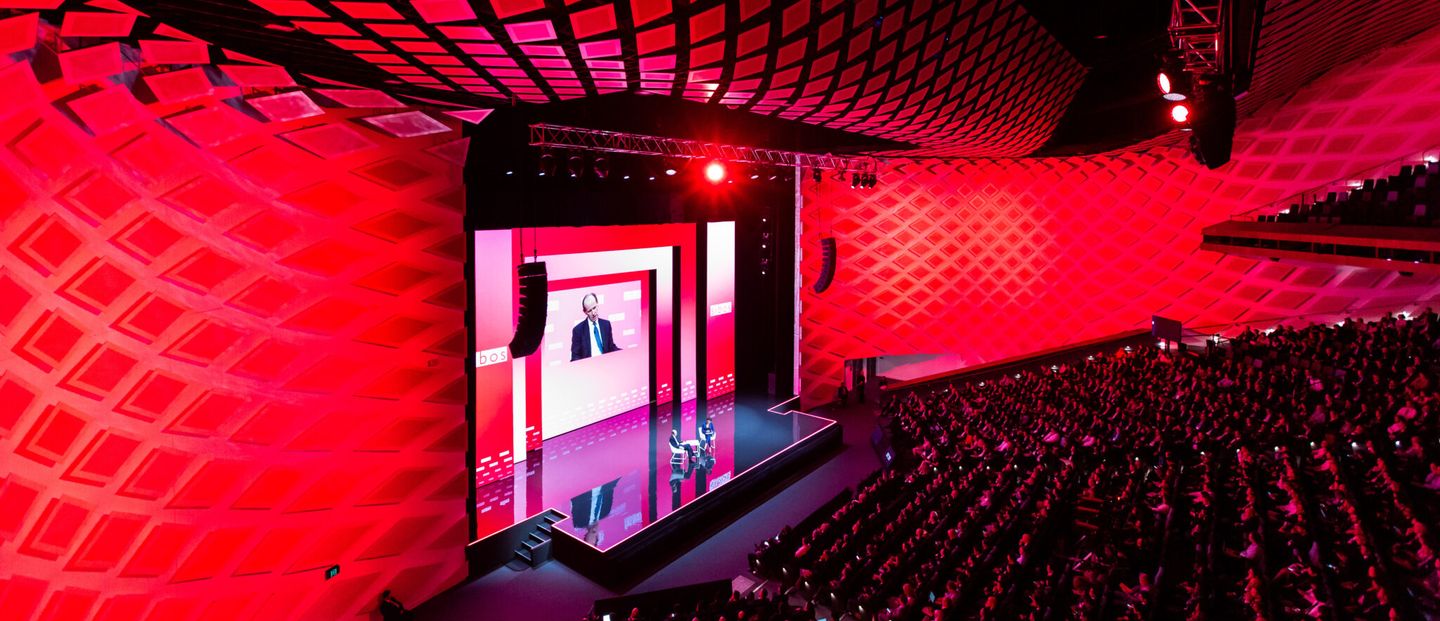 GLOBAL EVENT PORTFOLIO MANAGEMENT
At GPJ we've pioneered the management of global event portfolios to engineer maximum efficiency without sacrificing the constant creative and technological innovation that drives customer engagement. Our award-winning creative and design is fuelled by strategy, and underpinned by proven processes and web-based tools that organise everything from barcode asset tracking to limiting the impact of change orders. Our platform of global event management services helps marketers make global event programs more relevant to the CMO, the CFO and yes, the CEO, by reducing costs, through the use of our proprietary reporting and scoring program, and by showcasing ROI across the portfolio.
LIVE PRODUCTION
Our industry-leading Live Production team is what makes so many of the events we produce so memorable. Our skill is extracting and magnifying that story through content creation and live production, ranging from immersive public ceremonies and spectacular entertainment to memorable conference keynote productions. Our live production and broadcast streaming capabilities unite all of our disciplines – strategy, creative, technology and production.
Our Live Production Services Include:
General Session Creative & Production
Show Visualization
Storytelling – Design and Production
Special Event Design & Production
Broadcast Staging, Direction & Production
Live Video Broadcast Streaming
Mega Event/Festival Design & Production
Stage Design
Stage Management & Execution
Stage Production & Choreography
Set Sound, Video & Lighting Design
Speaker & Artist Booking
Speaker & Artist Management
Large Music Events
Scriptwriting & Speechwriting
Content Creation
Keynote Speaker Services
Keynote Content Production
Keynote Stage Design
Finales and Closing Moments
EVENT PRODUCTION
Our event management process translates a project's strategy into a plan of action that will manifest in an efficient, effective and cost conscious way. It will also be beautiful, memorable and shareable – those things that create brand devotion. We take care of all areas of event production including coordination of speakers, timelines, and resources – often crossing over into logistics. Utilising expertise from across all of GPJ's disciplines including broadcast streaming assures every objective is met and every detail is addressed.
Our Event Production Services Include:
Location and Venue Scouting
Virtual Event Broadcasting Streaming
Location Setup & Planning
Registration Services
Contact/Call Center Management
General Session Design
General Session Production
Team Scheduling
Speaking and Session Planning
Safety and Security Planning
Road Show Planning
Product Launches
Live Streaming Virtual Events
Experiential Retail
Pop-up Retail
Event Timeline Planning: Who, What, Where and When
Venue Sourcing
Hotel and Booking Management
Virtual Participation Planning
Corporate Event Planning
People Traffic Flow Planning
Event Management
Attendee Gifts and Giveaways
Speaker/Artist Booking and Management
Post-Event Attendee Follow Up Planning
Mobile Tours / Roadshows